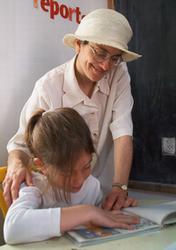 We believe in providing supplementary resources to both English teachers and those interested working in the field. Out of nearly 200 teachers trained through A.H.A.V.A., the majority have been new immigrants, single mothers and new retirees. Our seminars are geared toward teachers who would like to have more hands-on skills needed to address today's Israeli students. We are a vibrant organization ready to deal with the questions, problems, and concerns of English educators in Israel, in both formal and informal settings.
Each 16-hour course provides participants with practical methods and knowledge to improve their teaching skills. They also help the participants establish small learning groups in their area.
Class participants are allowed to use our methods and materials, with no obligation to become A.H.A.V.A. teachers.
We offer two courses:
"Teaching Hebrew-speaking children to speak English."
"Teaching the young English-speaker: a comprehensive K to 10th grade curriculum."
For information about the date and location of our next course, please contact us at: ahava.org@gmail.com or check here.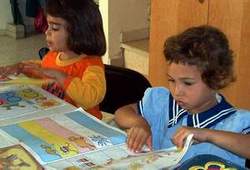 Wholly English - Native English Speakers' Program
A.H.A.V.A. has created a comprehensive curriculum for elementary school aged children who speak English at the native level. We run an enriched Language Arts program for small groups (3 to 8 children), often during school hours, in order to take the burden off the school system that has no formal programming for these students. The children hone their skills in reading, creative writing, grammar and spelling.
All of our students (including those with learning disabilities) learn to read, write and enjoy English.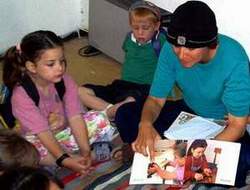 Although these students are more fluent in English than their monolingual peers, their English skills are extremely varied. One group will often include a child whose family recently arrived in the country, a child whose parents speak English, and a child who lived abroad for a time. This diversity, coupled with lack of educational resources and available teaching hours, creates an educational challenge. A.H.A.V.A. is overcoming that challenge, and we now offer this comprehensive program in three different communities in the Jerusalem area.
If you live in the Jerusalem area and would like to enroll your child in this unique program, please contact Gaila at ahava.org@gmail.com.

Ma'aleh Anglit – English for Young Hebrew Learners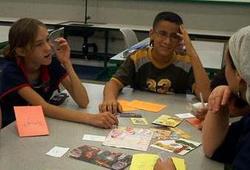 This program, geared for Hebrew speakers aged 5 - 13, is based on intimate groups of 5 to 6 children. Using TESL techniques, the children learn to understand and speak English. The innovative curriculum, specially developed by A.H.A.V.A., incorporates original story-telling techniques, games, songs, and plays.
As of fall 2006, A.H.A.V.A. is the sole provider of supplemental English education for the Ma'aleh Adumim municipality.
If you live in the Jerusalem area and would like to enroll your child in this unique program, please contact Gaila at 02-535-6532, or e-mail us at ahava.org@gmail.com.

"Breaking Through" Program for Learning Disabled Children
It is estimated that 10% of Israeli school-age children have some form of learning disability. This means that in a school of 400 children, 40 will have learning disabilities. Israeli Ministry of Education funding provides for special intervention for only five of these children, the toughest cases. The rest are left to deal on their own with large classrooms, declining self-esteem and limited academic achievement.
Early intervention with specialized teaching strategies is the best method to teach these children how to read. These children must receive frequent individual tutoring for short periods of time, so that they can learn incrementally and have their mistakes corrected immediately.
Due to a generous grant from the Peninsula Jewish Community Teen Foundation, A.H.A.V.A. was twice able to run our new "Breaking Through" project with selected students. The program has been a huge success. Throughout the year, 30 children have been enrolled, and all significantly improved their reading fluency with the help of individual tutoring several times a week, provided by a team of dedicated youth and adult volunteers.

The Annual National A.H.A.V.A. Readathon
A simple Readathon could be the answer to the difficult questions of rising poverty and increasing social gaps.
What if, instead of giving Israeli children another handout, we gave them the opportunity to increase their skills, learn how to be productive and find high-level jobs in the future? What is the key to this future? Higher education. What is that one component that often prevents them from achieving their goals? Lack of English literacy.
A.H.A.V.A. - Israel's only non-profit dealing solely with English literacy promotion - has developed an innovative way to get Israeli children to read.
Since 2006, A.H.A.V.A. annually offers elementary school children from the Maaleh Adumim area the opportunity to participate in an English book Readathon. The first ever Israeli English Book Readathon took place during the month of April, 2006. This event was the first of its kind in Israel; these elementary school children have become new pioneers.
In an age where television dominates and it is difficult to get children to read in any language, A.H.A.V.A. is successfully encouraging Israeli children to read in a foreign language. Each year we see a 10% increase in participants and number of books read. Last year, 200 children participated and read 2,000 books!
For information about our next Readathon, check here.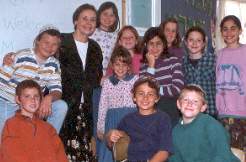 Volunteer with our A.H.A.V.A. Kids!
One-on-one tutoring possibilities to expand a young Israeli child's English horizons.
Small group learning with native Hebrew/English speakers in elementary or junior high settings.
Working with learning-disabled children to provide them with basic English literacy skills.
For volunteering opportunities, please contact Gaila at 02-535-6532 or email us at ahava.org@gmail.com.