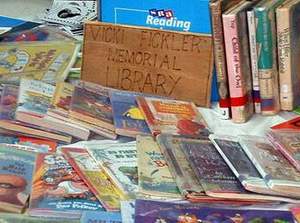 A well-stocked and organized library is crucial in order to entice children to enter the world of books and reading. Without a good library, all our efforts to teach a child to read are for naught. The Vicki Fickler Memorial Library currently holds over 1,100 books, and the collection is constantly growing.
The Vicki Fickler Library was founded in memory of Vicki Fickler, z"l. Vicki was a master teacher who was able to accurately diagnose a child's learning disabilities, hone in on the appropriate solution, and put it into practice. Vicki's goal was to ensure that each and every student would be competent in basic reading and math, no matter what the child's disabilities. Even after she retired and moved to Israel, Vicki continued to use her tremendous expertise to help Israeli children with learning disabilities.
As A.H.A.V.A. sets up programs in new communities, the Vicki Fickler Library continues to open new branches, spreading books - and Vickiís memory - throughout Israel.
For more information on supporting A.H.A.V.A. programs, see our Support page.